The Bed and Breakfast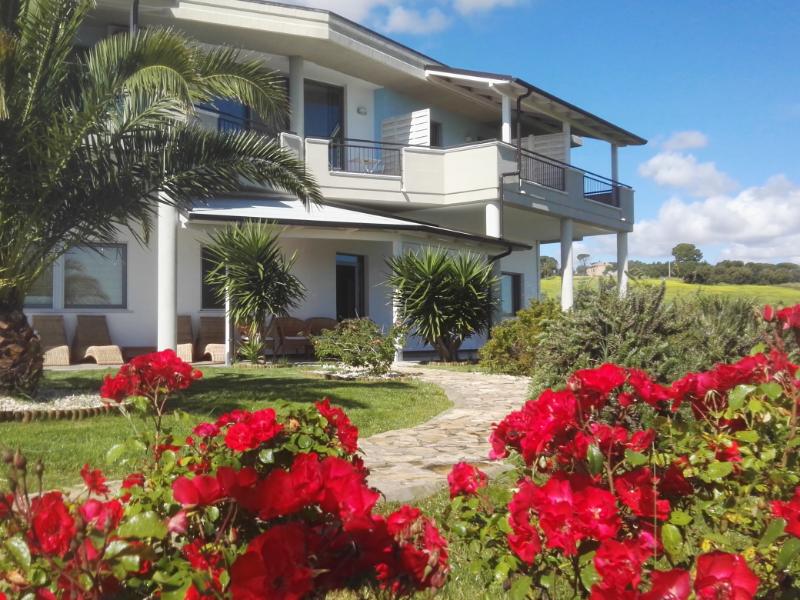 Ample spaces and stunning views for a vacation in total relaxation
Colle Selvotta B&B was founded in 2007, restuctured in 2012 and renovated in 2017 to provide more attention and space for our customers.
Our facility is located in one of the most beautiful and unspoiled landscapes on the Vasto coast (Gulf of Vasto and San Salvo Marina beach), immersed in the greenery of olive groves, vineyards and wheat fields dominating your view wherever you look, reaching all the way down to the azure sea.
Here, you will surely be able to spend your holidays relaxing in tranquillity, far from city chaos but within easy reach, a few minutes by car. Upon awakening you will be treated to singing birds accompanied by a gentle breeze throughout the day, which always keeps the climate fresh and pleasant, never suffering from the heat of sultry summer days.
Each room has its own personal space, beyond the common space, dedicated to enjoying these sensations of well-being.
Particular attention is paid to the cleanliness of our rooms (daily cleaning with change of linens).
We offer a delicious breakfast served buffet style with sweet and savoury produce, always prepared with care and with additional special attention to nutritional values. Breakfast is taken in our beautifully-kept garden with a spectacular view of the sea. Guests can enjoy a common area that keeps hot water available for tea, herbal tea and coffee that you can prepare as your like.
Our facility is equipped with a large, comfortable, fenced-in and secure car park that guarantees a spot for every guest.
Free Wi-Fi.
The Bed and Breakfast is located within easy reach of all the most enticing destinations for a holiday relaxing in nature, at the sea and in the mountains:
about 2 km from the free beach at Vasto Marina;
about 3 km from the beach with facilities at San Salvo Marina;
about 5 km from the City of Vasto via a local road (with no fighting summer traffic);
Aqualand del Vasto water park about 10 km;
Punta Aderci nature reserve about 12 km;
port of Termoli for embarking to the Tremiti Islands 20 km;
Majella National Park 1 hour by car;
Gran Sasso d'Italia 1 hour and 15 minutes by car (Roccaraso);
All this sets our facility in a unique position, allowing you to reach other destinations even beyond the ones mentioned; it will be our pleasure to advise you about how to make your holiday as perfect as can be for you.We will also be happy to advise you on tasting our culinary specialties and will try to satisfy every palate.
Colle Selvotta B&B thanks all our guests who, throughout our years of operation, have allowed us to achieve so many milestones and through this showcase our awards:
Tripadvisor Traveller's Choice, 2017-2018-2019, recognition given to only 25 facilities in all of Italy
Tripadvisor Certificate of Excellence, 2014-2015-2016-2017-2018
Mark of Quality, for the Abruzzo Region.
The only thing left is for you to visit us at Colle Selvotta B&B!
See you on...